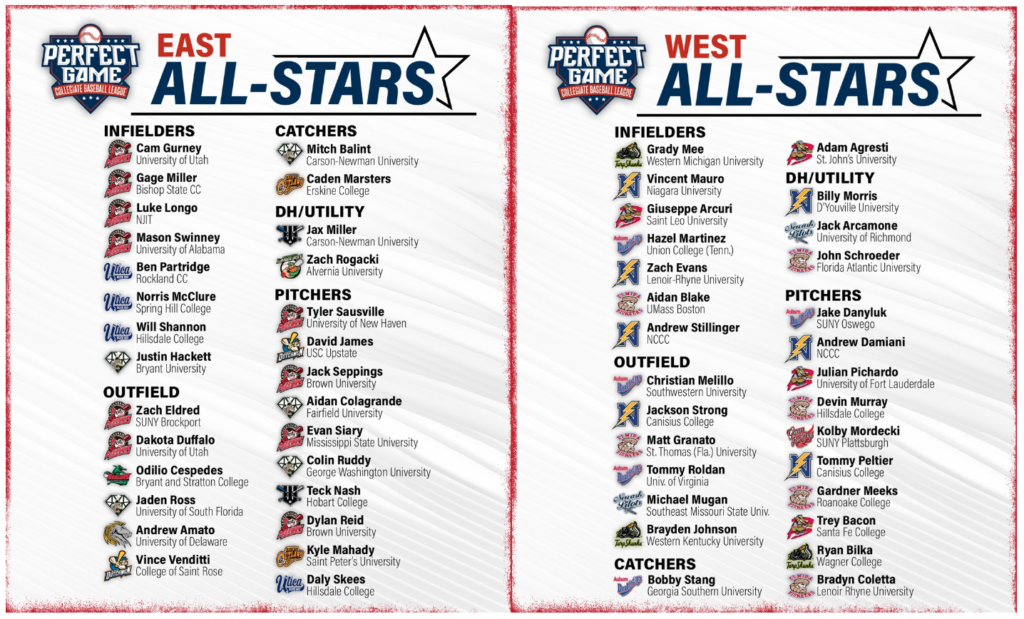 The Perfect Game Collegiate Baseball League (PGCBL) is proud to announce its 2023 Midseason All-Star awards in recognition of those who performed exceedingly well during the first half of the summer season.
A total of 56 players – 28 from the East Division and 28 from the West Division – have been named 2023 PGCBL Midseason All-Stars. All 16 organizations are represented by at least one player. Honorees were chosen by the league's administration based on statistics from Opening Day through Wednesday, July 5.
The East Division All-Star team consists of two catchers, eight infielders, six outfielders, two designated hitter/utility players, and ten pitchers. The West is the same, however it contains one more DH/utility player and one less infielder.
The East-leading Amsterdam Mohawks lead the league with ten selections, followed by the Niagara Power with seven, the Elmira Pioneers with six, and then the Auburn Doubledays & Mohawk Valley DiamondDawgs with five.
2023 PGCBL East Division Midseason All-Stars
Catcher – Mitch Balint (Carson-Newman), Mohawk Valley DiamondDawgs
Catcher – Caden Marsters (Erskine), Oneonta Outlaws
Infield – Cam Gurney (Utah), Amsterdam Mohawks
Infield – Gage Miller (Bishop State CC/Alabama), Amsterdam Mohawks
Infield – Luke Longo (NJIT), Amsterdam Mohawks
Infield – Mason Swinney (Alabama), Amsterdam Mohawks
Infield – Ben Partridge (Rockland CC), Utica Blue Sox
Infield – Norris McClure (Spring Hill), Utica Blue Sox
Infield – Will Shannon (Hillsdale), Utica Blue Sox
Infield – Justin Hackett (Bryant), Mohawk Valley DiamondDawgs
Outfield – Zach Eldred (Brockport), Amsterdam Mohawks
Outfield – Dakota Duffalo (Utah), Amsterdam Mohawks
Outfield – Odilio Cespedes (Bryant & Stratton), Glens Falls Dragons
Outfield – Jaden Ross (South Florida), Mohawk Valley DiamondDawgs
Outfield – Andrew Amato (Delaware), Saugerties Stallions
Outfield – Vince Venditti (Saint Rose), Albany Dutchmen
DH/Utility – Jax Miller (Walsh), Watertown Rapids
DH/Utility – Zach Rogacki (Alvernia), Boonville Lumberjacks
Pitcher – Tyler Sausville (New Haven/Xavier), Amsterdam Mohawks
Pitcher – David James (USC Upstate), Albany Dutchmen
Pitcher – Jack Seppings (Brown), Amsterdam Mohawks
Pitcher – Aidan Colagrande (Fairfield), Mohawk Valley DiamondDawgs
Pitcher – Evan Siary (Mississippi State), Amsterdam Mohawks
Pitcher – Colin Ruddy (George Washington), Mohawk Valley DiamondDawgs
Pitcher – Teck Nash (Hobart), Watertown Rapids
Pitcher – Dylan Reid (Brown), Amsterdam Mohawks
Pitcher – Kyle Mahady (Saint Peter's), Oneonta Outlaws
Pitcher – Daly Skees (Hillsdale), Utica Blue Sox
2023 PGCBL West Division Midseason All-Stars
Catcher – Bobby Stang (Georgia Southern), Auburn Doubledays
Catcher – Adam Agresti (St. John's), Batavia Muckdogs
Infield – Grady Mee (Western Michigan), Jamestown Tarp Skunks
Infield – Vincent Mauro (Niagara U), Niagara Power
Infield – Guiseppe Arcuri (Saint Leo), Batavia Muckdogs
Infield – Hazel Martinez (Union – Tenn.), Auburn Doubledays
Infield – Zach Evans (Lenoir-Rhyne), Niagara Power
Infield – Aidan Blake (UMass Boston), Elmira Pioneers
Infield – Andrew Stillinger (NCCC), Niagara Power
Outfield – Christian Melillo (Southwestern) Auburn Doubledays
Outfield – Jackson Strong (Canisius), Niagara Power
Outfield – Matt Granato (St. Thomas), Elmira Pioneers
Outfield – Tommy Roldan (Virginia), Auburn Doubledays
Outfield – Michael Mugan (Southeast Missouri State), Newark Pilots
Outfield – Brayden Johnson (Western Kentucky), Jamestown Tarp Skunks
DH/Utility – Billy Morris (D'Youville), Niagara Power
DH/Utility – Jack Arcamone (Richmond), Newark Pilots
DH/Utility – John Schroeder (Florida Atlantic), Elmira Pioneers
Pitcher – Jake Danyluk (Oswego), Auburn Doubledays
Pitcher – Andrew Damiani (NCCC) Niagara Power
Pitcher – Julian Pichardo (Fort Lauderdale), Batavia Muckdogs
Pitcher – Devin Murray (Hillsdale), Elmira Pioneers
Pitcher – Kolby Mordecki (Plattsburgh), Geneva Red Wings
Pitcher – Tommy Peltier (Canisius), Niagara Power
Pitcher – Gardner Meeks (Roanoake), Elmira Pioneers
Pitcher – Trey Bacon (Santa Fe), Batavia Muckdogs
Pitcher – Ryan Bilka (Wagner), Jamestown Tarp Skunks
Pitcher – Bradyn Coletta (Lenoir-Rhyne), Elmira Pioneers